Firstly, the anthem had to be written by those with a background in skills rather than a professional song writer. It should also embrace the value of WorldSkills and all those within it.
Above all it should promote young people who have embraced skills and vocational training.
The resulting music is a collaboration between two individuals. Georges Tortel is a locksmith, now retired, from Provence in the south of France. His co-author, Wawszczyk, is from Saint-Pierre-lès-Nemours, not far from Paris, and has a business building wooden and steel roof frames.
Both have held elected positions in WorldSkills France, with the aim of helping young people develop and train.
The two also share a passion for music, and together have composed more than 100 songs, selling them under their own label which they created in 2013 with the Devoir band.
The band, which also recorded the anthem, was founded in 2009 by brothers Daniel and Loïc Vazque. The name is a reference to the French Companion du Devoir, an artisan mentoring organization that dates back to Medieval times.
It was Wawszczyk who created the main musical theme for the anthem, the inspiration coming to him while he was driving. He immediately recorded it on his mobile phone so as not to forget it, with Torte writing the first two verses and the chorus.
A longtime friend and composer, Jean-François Pauléat, was responsible for the symphonic arrangements.
For the recording, no less than 21 musicians shared the 32 parts in the final arrangement.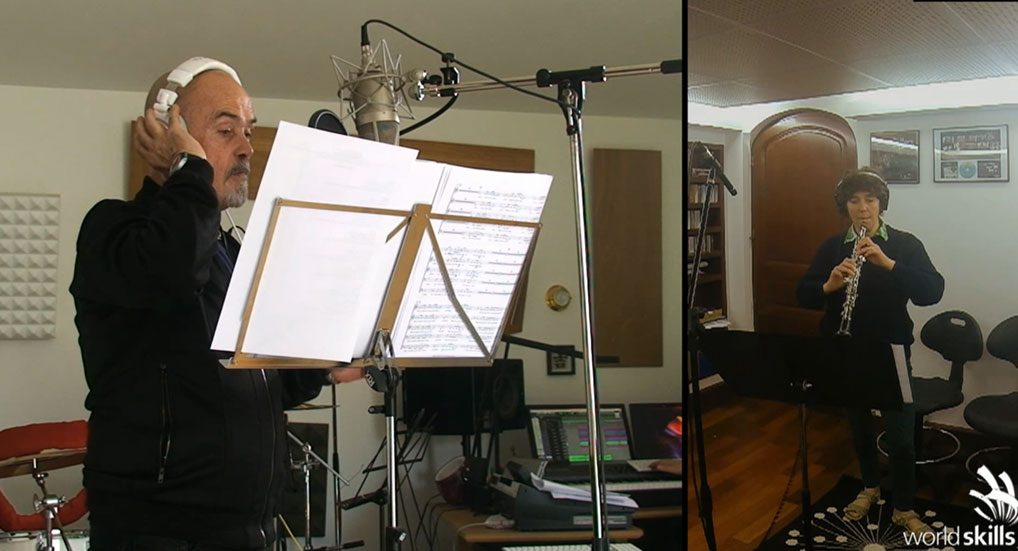 The anthem was played for the first time at the Opening and Closing Ceremonies of WorldSkills Abu Dhabi 2017.
At the 2018 General Assembly the instrumental version of the WorldSkills Anthem was unanimously adopted as the official WorldSkills Anthem. 
The instrumental version (WAV, 41 MB) is available for Members to use. Additional background information is also available in the Member resource section. Some Member expressed interest in the potential to run national contests with schools to come up with their own lyrics or use local instruments – great initiatives for each country to engage their youth, and to fully "own" the anthem while at the same time being part of WorldSkills  thus highlighting the unity and the diversity of WorldSkills.